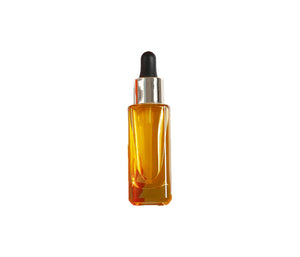 1.5floz; This serum is specifically created for the most sensitive skin, dry, mature and complex skin, including oily and problematic skin! CAREFULLY created with cold pressed pumpkin seed oil, soothing sunflower and chamomile plant, aloe and niacinamide complex.   Naturally promoting collagen production while retaining the skin's natural elasticity!   Aiding in the formation of new skin cells.  In addition naturally reducing the appearance of not just fine lines and wrinkles, but also the appearance of red and blotchy skin; as it has a chock full of vitamins and super-antioxidants!   Not to mention its great for targeting acne and minimizing pores!  You can choose it in its natural unscented or in a soft pumpkin scent!  Only $23 til Dec 1st!
Created with 100% certified organic ingredients!
Cold pressed pumpkin seed oil, niacinamide, sea buckthorn, cold pressed sunflower, organic bee pollen extract, aloe vera plant, and shiitakie mushroom, chamomile plant, and ceramide complex.