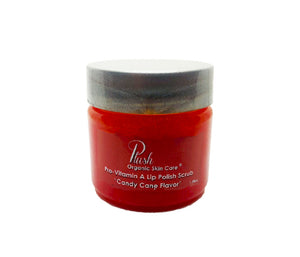 1.5floz; a sugary, moisturizing lip scrub that almost tastes too good! Leaving your lips, soft, super hydrated and super healthy! DONT EAT IT! Available in yummy flavours!
Created with 100% certified organic ingredients: Aloe vera plant oil, bachuchi plant, wild cherry bark, black licorice plant, turbinaro raw cane sugar, pro-vitamin A, carrot seed, andiroba plant oil, buriti nut oil, cacay nut, vitamin k, Hyaluronic Acid, tripeptides, Sodium Hyaluronate and opitphen(plant derived preservative).

Available in the following flavours! Just type them in!

No flavour,
Pink Chardonnay
Peach Nectar
Caramel Mocha Latte'
Milk Chocolate
Mint Chocolate Truffle
French Vanilla Bean,
Homemade Apple Pie
Caramel Apple
Pineapple Twist
Pina Colada
Bubble Gum
Cherry Vanilla Blossom
Orange Creamsicle
Roasted Coffee
Sugar Coated Strawberries
Cake Batter