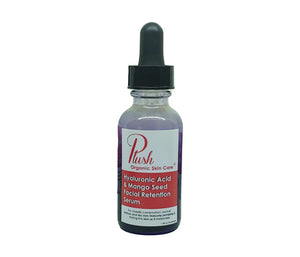 1.5floz.  A soothing, hydrating and all around feel good facial serum that naturally promotes clear skin, and that smooth yet firm natural look.  Naturally minimizing fine lines and wrinkles, while retaining collagen.   Smells great too! Or you can request it in an unscented version. 
Created with 100% certified organic ingredients; 30% Hyaluronic acid, mango seed, fruit oil and enzymes, fruit enzyme complex, aloe vera plant, coconut oil extract, natural spring distilled water, papaya fruit extracts. Blue & Green hawaiian sea extracts), silk pepitides, apple stem cell, Leucidal liquid(natural preservative).
Choose unscented, or your choice of pineapple, coconut & mango fruit, or straight up mango fruit!