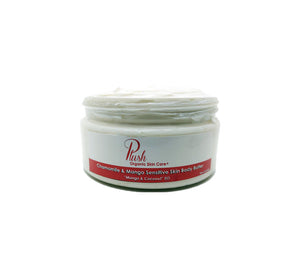 8fl.oz.  This blend is ideal for those with red and very sensitive skin, and research shows this blend is ideal for those with chemical burns due to chemo therapy.  A blend of soothing aloe, chamomile plant, avocado oil, shea butter, cruelty free emu oil, and mango plant. Naturally helping Your skin recover from chemo burns, dry and cracked skin. Glides on smooth, not greasy leaving Your skin smooth and soft! In both unscented and soft, supple natural essential oil based scents! Has a slight chamomile and cocoa scent due to the botanical extracts.

Created with 100% certified organic ingredients:

Shea butter, aloe vera butter, kokum butter, murumu butter avocado seed, emu oil(cruelty free), cocoa butter, ceramide complex, emulsifying beeswax, mango seed mango butter, chamomile seed, grapeseed oil, sunflower seed, neroli & carrot seed, polysorbate 20, tetrasodium diacetate, organic alcohol(natural preservatives).