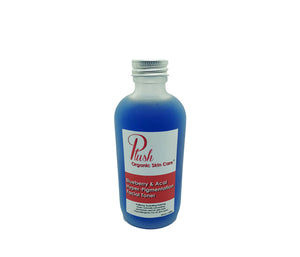 4floz.  A soothing, refreshing facial cleanser; created with pure blueberry and pomegranate fruit enzymes, and plant oils, with alpha lipoic acid, grape-seed plant, vitamin c, vitamin k, sunflower and jojoba plant extracts; mixed with pure spring waters and drops of pure witch hazel plant for its natural astringent properties.  Removing trapped dirt and oils that cause dull skin, uneven skin tone and acne issues. Ideal for any skin type and especially chaotic and oily skin.
Created with 100% certified organic ingredients:
Blueberries, pomegranate fruit plant oil and enzymes, natural spring waters, alpha lipoic acid, grapeseed plant, vitamin c, vitamin k, sunflower plant oil, jojoba plant oil, blackberry fruit, andiroba plant oil, witch hazel plant water(no sting), optiphen plus(natural preservative).  Natural colouring happens due to the fruit extracted blends.