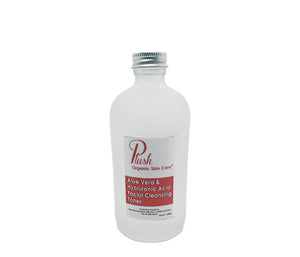 4oz.  A soothing facial cleansing toner, with aloe vera juice, vitamin c, hyaluronic acid, tea tree and cucumber fruit extracts.  Great for sensitive skin and oily skin; a finishing cleansing toner to remove excess oils and left over dead skin cells.  Feeding Your skin with vitamins, nutrients and with hyaluronic acid and vitamin c; this naturally retains Your skin's natural moisture as it tones and cleanses Your skin; keeping Your skin's natural suppleness and clean and clear complexion. Great for even sensitive skin, normal skin, combination skin and oily skin types!

Created with 100% Certified Organic Ingredients:  
aloe vera plant juice, glycerine, hyaluronic acid, witch hazel plant water(no sting), spring
waters, vitamin c, tea tree plant,vitamin B, vitamin k, grapeseed plant water, cucumber fruit extracts,  distilled aloe vera water,Tetrasodium glutamate diacetate (plant dervived preservative).