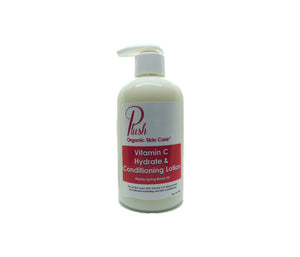 Available in 4oz and 8oz; a soothing and hydrating lotion blend that's great for even the most sensitive skin types. Chock full of citrus fruits filled with vitamin c, cruelty free, orange blossom honey, goats milk and selective plant and fruit butters to provide that natural moisturization, and healthy skin complexion. Available in selective seasonal scents. Glides on soft and smooth and non greasy.

Created with 100% certified organic ingredients; 30% vitamin c, (citric acid)natural spring waters, goats milk,(cruelty-free), shea and aloe vera butters, silk peptides, ceramide complex, niacinamide, murumu butter, avocado plant, lanolin butter,cruelty free beeswax, cruelty free honey,tetrasodium diacetate, polysorbate 20, (plant derived preservatives).
Just type in your scent(s) in the order notes section of checkout! Available in:

Unscented,
Apothecary Vanilla & Rose
Butterfly Garden (french mimosa, cyclamen, jasmine orange tea, tangerine, lemon leaf, coconut and musk),
Caribbean Island Bliss (like an iced pina colada; sweet pineapple, vanilla, bananas, hints of orange and strawberries),
Florida Keys (an oceanic blend of green tea, aloe, lime and lemon spritz and a blend like aquaflore, with a touch of orange blossom)
Zen Bunny Garden (bamboo and teak wood, lotus flowers, hints of grapefruit, and sandalwood),
Dark Love Affair (dragons blood, touches of jasmine flower, black rose, and sandalwood, hyacinth),
Fire Goddess (birch wood, crackling like fire, currants, citrus zest, sweet pineapple, strawberry and raspberry),
Sunny Sunflower(just like fresh pressed sunflowers and touches of slight white citrus)
Sunkissed Caribbean Island (Vanilla, Coconut, Musk, Brown Sugar,Chocolate, Sandalwood)
Smoked Dark Vanilla & Birch Leaf (Toasted vanilla bean, sweet cream melt in the smoky heat of birch firewood and sandalwood)
Sweet Pea & Strawberry Bliss (pressed sweet pea flower with touches of wild strawberries),
Gardenia Garden (blend of fresh gardenia flowers, hits of magnolia)
Florida Citrus Bliss (a blend of oranges, tangerines, grapefruit, bergamot and lemon spritz)
Indigo Summer (aromatic sage, vetiver, lavender, notes of bergamot, lemon, ylang and jasmine, cardamom spice, leather, sandalwood, and musk)
Iced Colada -just like a pina colada
Island Paradise - Hibiscus flower, with hints of black raspberry, magnolias and touches of pomegranate)
South Florida Sangria(Chardonnay, White Citrus, Strawberry, Oranges, Pineapple).
Karmic Lust (orange, lavender and pine with notes of patchouli, lemongrass, cashmere and musk),

Desert Rose (chipotle, pear, with blends of red and black roses)