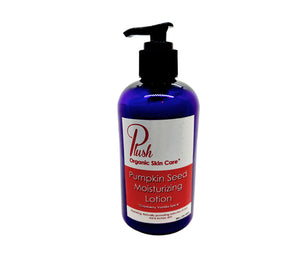 Available in 4oz or 8oz; Ideal for soothing red and bumpy skin as well as seriously dry skin! Created with pure 100% pumpkin pureed into pressed oil along with cruelty free goats milk. Specifically created to reduce uneven skin tone, as well as red skin, and also naturally filled with specific enzymes, fruits and super-antioxidants to protect the skin from UV damage.  Non-greasy and a little goes along way! Like all our natural lotions, its ideal even for the most SENSITIVE skin and for skin thats easily allergic to all sorts of things.  Best in unscented for skin like that.  Enter your scent(s) You would like!
Created with 100% certified organic ingredients: Cruelty free goats milk butter, shea butter, honey, lanolin butter, pumpkin seed butter and pressed oils, neroli, sunflower seed, chamomile plant, jessica mallow plant, spearmint extract, natural spring water, cruelty free organic beeswax, organic alcohol, polysorbate 20, tetrasodium glutamate diacetate, optiphen,(plant derived preservatives),
Available in fall and winter inspired natural scents! Choose one!
Unscented,
Pumpkin Spice Harvest(pumpkins, spiced cider, nutmeg, cinnamon & dark vanilla)
Apple Cinnamon Icing- (fresh apples, apples, cinnamon, whipped cream, vanilla bean, and nutmeg),
Caramel Mocha Latte' –(coffee bean, vanilla bean and caramel),
Blushing Hot Cocoa –(vanilla bean, cocoa, cacao bean)
Autumn Bonfire (vanilla bean, tonka vanilla, pumpkin plant, warm woods, almond, sweet raspberry and crackling firewood)
All Hallows Eve (black rose, red rose floral, patchouli, orange zest, vanilla orchid, pumpkin spice, cinnamon)
Cinnamon Roll (vanilla bean, cinnamon spiced, sugar cane blend)
Pumpkin Pie & Whipped Cream (just like it!)
Spiced Pumpkin & Rum(pumpkin, whipped cream, buttered rum, chocolate, coffee, almond, and hits of nutmeg and cider)
Pumpkin Pecan Waffles -(Roasted pecans, maple, and pumpkin)

Celtic Autumn (cinnamon, brown sugar, and vanilla melds the apple cider notes to a spicy yet creamy masala chai tea.) -
Butterscotch Pumpkin
Willow Wisp (patchouli, cinnamon, cedarwood. black rose)
Cranberry & Vanilla Spice (cranberry, spiced cinnamon, vanilla bean)
Homemade Apple Pie(warming apples, vanilla bean, cinnamon, nutmeg, cider spice)
Gingerbread Biscotti (gingerbread, cinnamon,vanilla bean, almond)
Mistletoe Midnight (Fir pine, cranberries, vanilla bean, spearmint & peppermint)
Nativity Night (Frankincense, Myrrh, hits of crisp pine needle and spearmint)
New Years eve (Zinfandel wine, white grapes, chardonnay)
Blue Winter Sky(peppermint, spearmint, and cold winter air sparkle through a fresh blend of lime, crisp apple, and bergamot, while notes of winter lily, coconut, and galbanum)
Peppermint Candy Cane Bark
Alpine Cheer (fir needle, cinnamon stick, cranberries, crisp apple and cedarwood)
Blushing Hot Cocoa –(vanilla bean, cocoa, cacao bean)
Candy Cane –(peppermint/spearmint blend)
Cinnamon Roll (vanilla bean, cinnamon spiced, sugar cane blend)
Cuddle Me By The Fire(NEW!)(Woods, sweet rapsberry and vanilla bean)
Spiced Cranberry & Vanilla Bean
Yuletime Cheer(NEW)(mulled mandarin oranges, snowy cranberries, spicy clove, and pine needles.)