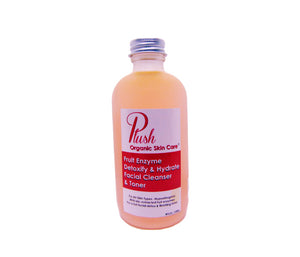 4floz. This blend has been created for those with sensitive skin, however, its ideal for all skin types!  A blend of banana,  black cherry bark, strawberry, pineapple, grapefruit, papaya and mango fruit juices, along with high vitamins, super antioxidants, including Vitamin C, Vitamin K, Vitamin E and Vitamin A;  naturally promoting superior natural skin health; fighting against premature aging; blended with guava seed oil, neroli oil and apricot oil.  Blended with our natural spring waters.  This blend provides the deep facial detoxifying, cleansing and tones without clogging the pores!  Nourishing and re-hydrating.   Providing a pure epidermal cleanse while toning the skin leaving it smooth, glowing and silky!   Looking naturally healthy, young and clear!  Ideal for a quick natural facial cleanse and tonal balance! For opitimal results, add our matching facial scrub and Aloe & Fruit Enzyme facial serum!

Ideal for all skin types!
Created with 100% certified organic ingredients:   Natural spring water, witch hazel plant juice(no sting), aloe vera plant juice, neroli fruit enzymes, grapefruit, banana, black wild cherry bark, strawberry, pineapple, grapefruit, papaya, mango fruit and peach juice enzymes, apricot kernel, Vitamin C, pro-vitamin A, Vitamin K and Vitamin E,  Apple stem cell, alpha lipoic acid, optiphen(natural preservative).