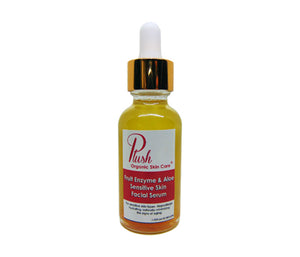 1.5floz. For sensitive skin and especially when We go out into sun!  Blended with aloe vera plant, and 6 TYPES of fruit enzymes; stem cell extracts of apple, blackberry, strawberry, acai berry, prickly pear, buriti oil, guava fruit,  pineapple, and raspberry.  With Vitamin K and drops of avocado plant and 5% Hyaluronic acid.  Finished with a soft natural fruity scent or have it unscented!  

Catered to nourish, hydrate skin, preventing harsh sun and environmental damage, reducing hyper-pigmentation, and as well as smoothing out fine lines and wrinkles and reducing skin redness as its choc full of super-antioxidants, natural vitamins and minerals to maintain a healthy and naturally youthful complexion and keep Your skin evenly balanced in look and feel!  Ideal for dry, combo, sensitive and normal skin!

Created with 100% certified organic ingredients:   Aloe vera plant oil,  blackberry fruit, prickly pear, strawberry, raspberry, acai berry, guava, buriti nut, cacay nut, plant enzymes oil, avocado plant enzymes, apple stem cell, vitamin k, hyaluronic acid, co-enzyme Q10, leucidal liquid(natural preservative).