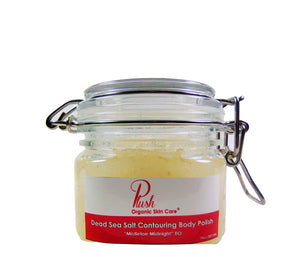 8floz. A unique body polish scrub for deep exfoliation, removing dead skin cells, naturally influencing the body's natural curves and skin tightening. Blended with 100% pure dead sea salt, coconut enzymes, hyaluronic acid, seaweed extracts and multiple fruit enzymes for complete hydration, natural skin tone balancing and reducing the appearance of cellulite. Available in select seasonal inspired scents and unscented.
Created with 100% certified organic ingredients: 100% pure dead sea mineral salt, hyaluronic acid, unfractunated coconut oil, avocado fruit enzymes, brazil nut oil, hawaiian kelp sea extract, mango seed, aloe vera plant,spring waters, liquid germall(natural preservative). Enter in the notes below which scent you would like!
Available in select scents:

Unscented,
Vanilla Bean
Island Paradise (Hibiscus, with hints of black raspberry, magnolias and touches of pomegranate)
Coconut & Honey

Butterfly Garden(french mimosa, cyclamen, jasmine orange tea, tangerine, lemon leaf, coconut and musk),
Florida Keys (an oceanic blend of green tea, aloe, lime and lemon spritz and a blend like aquaflore, with a touch of orange blossom)
Zen Bunny Garden (bamboo and teak wood, lotus flowers, hints of grapefruit, and sandalwood),
Etherial Spa Garden (Aloe water, Jasmine, floral blends, green and white tea)
South Florida Sangria(Chardonnay, White Citrus, Strawberry, Oranges, Pineapple).
Wild Cherry Blossom(Black cherries, wild cherries rice tea and shea)
Florida Citrus Garden;(blood oranges, mandarins, white orange citrus, lemon natural scent),
Lavender & Lemongrass
Sunkissed Caribbean Island (Vanilla, Coconut, Musk, Brown Sugar,Chocolate, Sandalwood)
Island Goddess(hibiscus, teak wood, orchids, coconut),
Bamboo Teak Garden(bamboo, grapefruit zest, mango, sandalwood with hints of teak wood),
Peach Nectar
Passionfruit & Strawberry Margarita(just like described)
Gardenia Garden(gardenias, bergamot, spring florals)
Black Rose & Jasmine
Iced Colada (just like a pina colada!)
Island Paradise (Hibiscus, with hints of black raspberry, magnolias and touches of pomegranate)