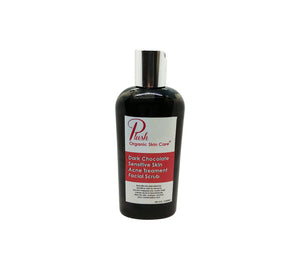 4oz; An ideal facial scrub for sensitive skin and for preventative and current natural acne reduction.  With dark cacao bean, vanilla bean, activated charcoal and coffee extracts, acai fruit, raspberry, and rhassoil clays, jojoba and raw turbinaro sugar cane. A deep exfoliate with bio enzyme fruit extracts and oils for deep pore cleansing, and for detoxifying the face to clear out blackheads, whiteheads and problematic acne.   A gentle, yet effective facial scrub for sensitive skin types, as well as oily skin, mature and any skin type. 

Note:  Be sure to rinse thoroughly as this facial scrub HAS charcoal and can leave some black residue on your face, use any our Fruit Enzyme Cleanser or Raspberry Cleanser and Toner to finish a full facial cleansing and toning for maximum results.
Created with 100% certified organic ingredients:

Natural spring water, cacao bean, vanilla bean plant, dark chocolate blends, rhassoul clay, coffee bean extracts, brazil nut plant oil, macadamia nut, raspberry fruit enzymes, mango seed, pomegranate, and acai berry fruit enzymes, raspberry tincture, turbinaro raw cane sugar jojoba meal plant, activated charcoal clay, acai berry, cacay nut,  liquid germall(natural preservative).