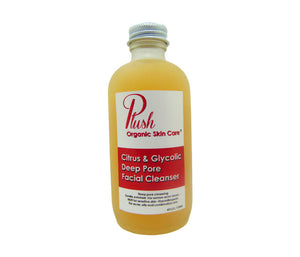 4floz.  Ideal for any skin type that suffers from acne issues and at the same time, revitalize and reduce the signs of aging in the skin! Naturally providing a healthy, nourished complexion.  With 10% glycolic acid, lemon peel, orange peel, tangerine, mandarin oranges and grapefruit, cucumber and lime along with jojoba, passionfruit and prickly pear fruit oil and with a NO STING witch hazel plant water. Ideal for oily, combination and acne skin types. NOT for sensitive skin!

Created with 100% certified organic ingredients.  Natural spring waters, 10% glycolic acid, orange, tangerine, mandarin fruit juice enzymes, lemon peel, lime enzymes, cucumber juice, jojoba oil, passionfruit enzymes, prickly pear plant oil, grapefruit enzymes,brazil nut plant extract, witch hazel plant water(no sting), liquid germall(natural preservative).

 Note: If Your skin tends to dry quickly naturally; then for optimal results and to prevent over drying of the skin, apply a soothing serum or moisturizer, for ideal results, apply our Green Tea pore cleansing serum.